I love fresh-baked bread. The earthy scent of the yeast, the enticing aroma of the baking bread, there is nothing better on a cold dreary winter day. But I have to admit, I generally just toss the ingredients into my bread maker and let the machine do all the work.
However after seeing this tantalizing recipe in a recent issue of
Mary Jane's Farm
magazine, I just had to try it. I mean, how could I not? So I spent yesterday afternoon measuring and kneading and resting and baking. The result was nothing short of delicious. This recipe is a keeper for sure.
One change I did make for future reference is to increase the amount of flour and to make the slits in the top of the loaf prior to the final rise instead of waiting until just before sliding the loaf in the oven. Sadly when I slit the loaf just prior to baking, it deflated and emerged from the oven looking slightly like a fallen souffle. It still tasted wonderful, but wasn't nearly as beautiful as the photograph in the magazine.
So after spending some time on the Mary Jane's Farm forum (yes I am a card-carrying member of the
Farmgirl Sisterhood

!
) and reading a few comments lamenting the same problem, I decided that increasing the amount of flour just a bit and making the slits
before
the final rise, should solve the problem for next time.
Here's my slightly adapted recipe:
Cast Iron Pan Cloverleaf French Bread
2 Tablespoons yeast
2 Tablespoons sugar
2-1/2 Cups warm water
2 Tablespoons olive oil
1 Tablespoon coarse salt
6 Cups plus 2 Tablespoons flour
Butter to grease pan
1 Whole egg, fresh from the coop and whisked lightly
Coarse salt
In a large mixing bowl, dissolve the yeast and sugar in warm water. Let sit for 15 minutes until yeast starts to bubble. Add olive oil, salt and half the flour. Mix well with a fork, then add the remaining flour. Knead for 3 minutes, then cover with a clean dish towel and let sit for 10 minutes. Repeat the kneading/resting four more times.
Rub butter over bottom and sides of a 10-12" cast iron frying pan. Divide the dough into four equal pieces and form into balls. Place balls into frying pan, cut a slit in in the top of each ball from center to outer edge, cover with the dish towel and let rise in a warm place until dough doubles (about an hour).
Preheat oven to 350 degrees. Brush loaf with beaten egg, sprinkle with coarse salt and bake for 25-30 minutes, until golden brown. Let cool for a few minutes, then remove from frying pan, slice and serve with butter. Bon Appetit!
~ Slightly adapted from Mary Jane's Farm magazine Black Skillet French Bread recipe~
Visit
Mary Jane's Farm
on Facebook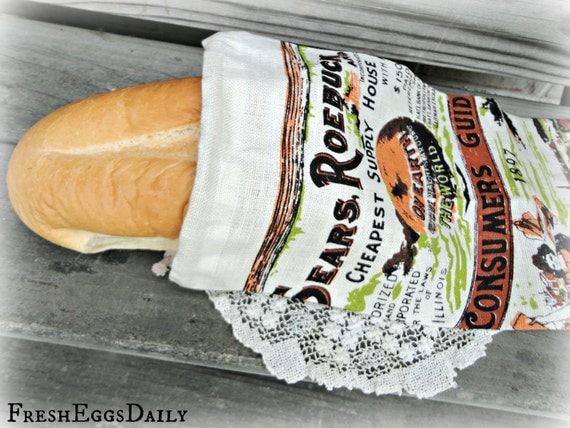 ~drawstring bread bag made from a repurposed vintage linen wall calendar~
Did you know that storing bread in a linen cloth bag extends its shelf life, keeping the crust crisp and the inside soft and chewy? Read more about how and why in this wonderfully information article from our friends at
1840 Farm
.
And to purchase your own linen bread bag, check out our selection of drawstring bread bags made from repurposed vintage linen wall calendars
HERE
in our esty shop. They make a wonderful gift along with a loaf of freshly baked bread!
If you're looking for something to read,
Make the Bread, Buy the Butter
by Jennifer Reese is a great book that I'm currently reading. Part memoir, part cookbook, the book chronicles the author's personal experience attempting to make more than 100 common food items at home, along with her recommendations on which really are worth making yourself - and which aren't. Some of them might surprise you. I highly recommend it if you're looking for a new book for your nightstand.